North America's first 145 full motion simulator arrives at Helicopter Flight Training Center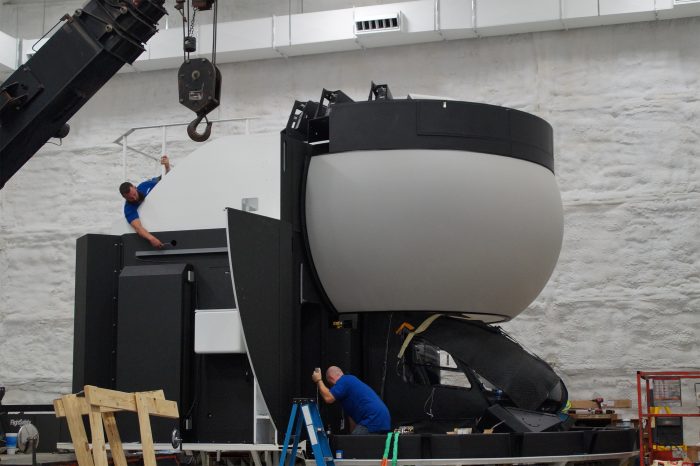 North America's first H145 Level D full motion simulator has arrived at the Helicopter Flight Training Center, a Metro Aviation company. The state-of-the-art simulator is currently being installed at the training center in Shreveport, La.
"This is the perfect addition to our simulator fleet," said Metro Aviation President Mike Stanberry. "The H145 is a popular aircraft for various mission types and we believe it will provide great training value to our customers."
The simulator's Vital 1100 visual system provides high fidelity, mission specific imagery with vastly improved scene content and exceptional effects. The full motion simulator is equipped with full Instrument Flight Rules (IFR) dual pilot instrumentation, GMX 200 with radar, traffic and terrain and night vision goggle (NVG) capability. The multi-function, touch screen Instructor Operating Station is designed to increase the effectiveness of training by providing instructors with an efficient and productive work space.
The Helicopter Flight Training Center also offers training in an EC135 level D full motion simulator, an AS350 level 7 flight training device and a Bell 407 level 7 flight training device. All simulators are available for dry lease, allowing operators to use their own instructors and training curriculum. Operators without their own instructors can request a referral or take advantage of the "train the trainer" program.
The H145 simulator should be certified for training in Fall 2016.