Helicopter Flight Training Center hosts ALEA Central Regional Seminar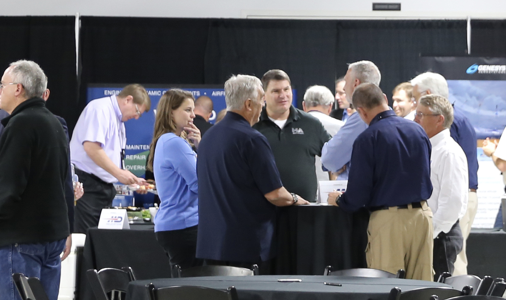 The Helicopter Flight Training Center, a Metro Aviation company, hosted nearly 100 law enforcement professionals and partners from the Central U.S. and beyond this week for the Airborne Law Enforcement Association's (ALEA) Central Region Safety Seminar.
The seminar offered a variety of training sessions including Inadvertent Instrument Meteorological Conditions (IIMC), spatial disorientation, stress & fatigue management, and aeronautical decision-making. Time slots in the training center's three simulators and an Inspection Authorization (IA) Renewal course were also available. Attendees were able to get their hands on the controls of the EC135 Level D full motion simulator and the Level 7 flight training devices for the AS350 and Bell 407 to practice IMC recovery. Between training sessions, attendees had the opportunity to speak with 40 vendors attending the seminar, as well as network with various police agencies.
"The opportunity to expose these pilots to simulators is invaluable," said Metro Aviation President Mike Stanberry. "We are grateful for the opportunity to share our training tools and hope we imparted some new skills and knowledge to this important group of aviators."
"We truly appreciate the Helicopter Flight Training Center's gracious sponsorship of this safety seminar," said ALEA CEO Dan Schwarzbach. "The facility is first class and the unlimited access to all of the simulators for practical demonstrations of IIMC procedures was eye-opening. All in attendance agreed that this was one of the best training events they have attended."
"The sophistication of equipment and the management of individual safety management systems are increasing exponentially for corporate, oil and gas, EMS and airborne law enforcement operators," said Metro Managing Director Milton Geltz. "Metro was happy to host the event to assist the ALEA in meeting these new challenges."
The Helicopter Flight Training Center is a top choice among law enforcement agencies, and currently has training agreements with the Massachusetts State Police and Texas Department of Public Safety.