Boston MedFlight trains at the CommLab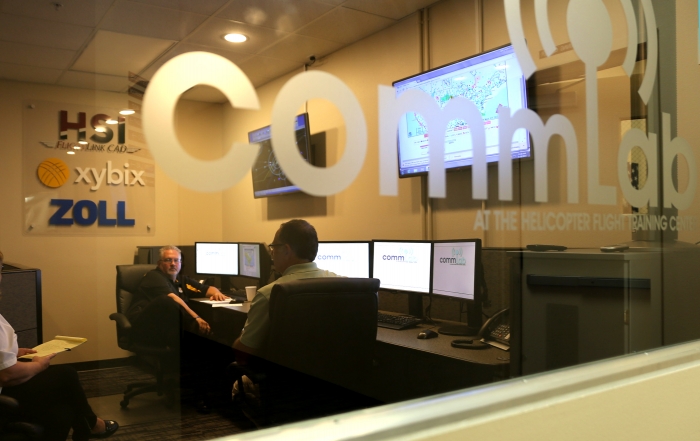 "At Boston MedFlight, we've valued the benefits of simulation training for many years. Our pilots and medical staff are involved in separate simulator environments that put them in real world scenarios, challenging their critical thinking skills. The benefits of this level of training are evident in our everyday operation. We push our staff to the very edge because no one gets hurt in a simulator," said Charles Blathras, Chief Operations Manager for Boston MedFlight.
Originally created to rapidly transport patients with life threatening illnesses or injuries to the proper facility, Boston MedFlight has evolved into a critical care transport system for the North East region. The crew completes an average of 5 helicopter flights per day, and more than 1,600 ground transports annually. With a large transport volume comes the requirement for a highly specialized training team to ensure the highest level of patient care. Blathras recently visited the CommLab at the Helicopter Flight Training Center (HFTC) with his Communications Supervisor, and said his experience was one-of-a-kind.
"While we've explored utilizing simulator training for our communications specialists in the past, we just didn't have all the pieces. The CommLab offers a state-of-the-art facility with the actual CAD system utilized by your program," he said. "Instructors that include industry leaders in Communications Centers of well-established transport programs provide guidance and an innovative experience for these professionals."
The CommLab is a partnership between Flight Vector, Golden Hour, HSI, Xybix and Zoll. Training scenarios take comm specs through a variety of situations to prepare them for the strenuous job they face on a daily basis. While in the CommLab, specialists are able to communicate with pilots training down the hall in one of the HFTC's flight simulators.
"The opportunity to simulate a scenario, jointly, with pilots in the flight simulator and their communicators in the Comm Center is truly a revolutionary idea," said Blathras. "We can develop a variety of formats to focus on different aspects of their responsibilities including customer service scenarios, a routine day, or even managing a catastrophic event. The potential for this venue is endless and finally gives this group of individuals a robust training experience."
The CommLab hosts a two-day course each month. Upcoming dates are September 21-22, October 12-13, November 2-3 and December 14-15. For more information and to register, visit commlabshreveport.com.