CommLab offers Unprecedented Training for Communication Specialists and Operational Control Specialists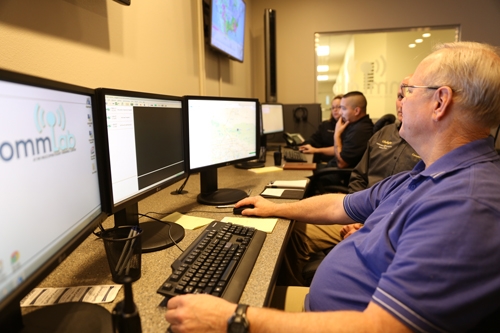 The Helicopter Flight Training Center, a world-class facility for pilot and maintenance training, recently introduced the revolutionary new CommLab. The CommLab is designed to provide the highest standard of training for communication specialists, complimenting the center's current air medical pilot simulator training. The CommLab is a joint effort of the Helicopter Flight Training Center and leading industry vendors Flight Vector, Golden Hour, HSI, Xybix and Zoll.
The inaugural class for the new CommLab at the Helicopter Flight Training Center brought a new training experience for seasoned communication specialists. During a beta class, communication veterans conducted training for flight requests for inter-facility and scene transfers, multiple aircraft requests, change of landing zones and Post Accident/Incident Plan (PAIP) procedures. The class was made more realistic by the ability to interface with pilots in a flight simulator.
The CommLab is currently finalizing an Operational Control Center (OCC) course that will be the first for the industry and will have the full benefit of simulated scenarios that the CommLab can provide. Training curriculum is being developed in parallel with the new FAA HAA guidance for Operational Control Specialist Standards (OCSS).
"We pulled together industry leading communicators and managers to look at what our modern day communicators are faced with and how we could interact with pilots in their simulation process to better equip communicators in the entire industry," said Stewart Corbin, Director of Communications for MedComm in Columbus, Ohio.
"My experience at the CommLab was earthshattering," said Barry Seth, Lead Flight Communication Team Leader for Metro Life Flight in Cleveland, Ohio. "This project is going to allow us to train and standardize our responsibilities and duties as communication specialists."
CommLab courses are endorsed by the National Association of Air Medical Communication Specialists. They are held in Shreveport, Louisiana and can accommodate eight participants. 2015 classes are scheduled as follows:
April 20-21
May 18-19
June 22-23
July 20-21
August 17-18
September 21-22
October 12-13
November 16-17
December 14-15
For more information and to register, visit commlabshreveport.com.